Manop Mayer
2009年 08月 13日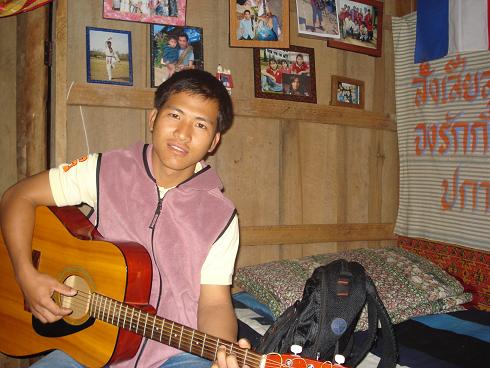 Manop Mayer is 23 years old and lives in Apha Village
(an Akha hilltribe in the Chiang Rai Province of Thailand).
Manop is in his second year of school at Chiang Rai Rajaphat University, where he is studying community development.
Before going to university Manop attended vocational school where he studied mechanical engineering.
It is then that he decided he wanted to continue with his education and go to university. Thanks to the generous support from fundraisers in Japan, Manop can now pursue his dream of attaining a higher education.
*****************************************
(The following is an interview with Manop)
◆In what subject are you most interested in you studies?
Community development.
◆Are you currently involved in any special activities as a second year university student?
I help draw up social science curriculums for first grade classes, as well as gather first grade students in groups for reading time.
This program is a great experience for me. It helps me learn how to bring up and educate the younger generations in our society.
◆What do you do when you come to visit The Mirror Foundation every week?
I often use this time to visit Akha and Lahu villages and collect data. Once collected, I summarize and organize the data into documents.
I also accompany The Mirror Foundation's volunteers when they go to teach and I help them by translating from Thai or Akha to English.
◆Does helping with The Mirror Foundation's jobs have an affect on you?
Yes, of course.
Whenever I visit the villages I learn about the various problems they face and am challenged by helping to solve these problems.
◆Although there you have two more years of university to go, what kind of future do you visualize for yourself?
I would like to gather the members of younger generations in the villages and carry out activities for community development.
The hilltribe people face many problems that have yet to be eliminated. One such issue is that concerning human trafficking. As of now, we campaign and perform at many villages with the intention of guiding the hilltribe people to think about the problems they face and how to try and solve them. It is my goal to motivate each person to think about their own future and how make the best of it.
*******************
Manop is an outstanding asset to The Mirror Foundation. He is a Scholarship Student leader and serves as a great example of the Mirror Foundation's Scholarship Program.