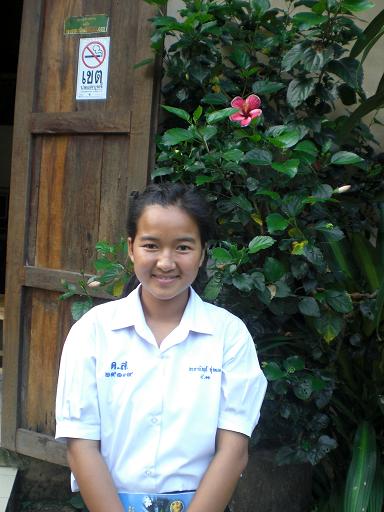 Her name is Aoy. She is 16 years old and from Sanjarung village(Aka tribe)
She is a first year student at Dumrong high school in Chieng Rai.
She leaves home at 6 a.m to go toschool on the bus, and goes home at 5 p.m.
This is a typical day for her.
Dumrong high school has a special activity on Thursday.
Activity are rich in variety. (For example, Thai dance, sports...)
Students can choose one of them that they are interested in,
and decide how to carry out the activity.
Although she can not take Japanese or English lessons for school activity,
She can take them on the weekend as a special study program.
After she gose home she always helps with the housework.
There are 4 people in her family, her mother, her younger brother and younger sister.
Because her mother leaves the house in search of temporary work,
Aoy takes care of thier home herself.
She also tries to be a good leader among students who have received scholarships.
Every day she is busy helping with housework and her studies however, it seems that she is satisfied with her busy life.