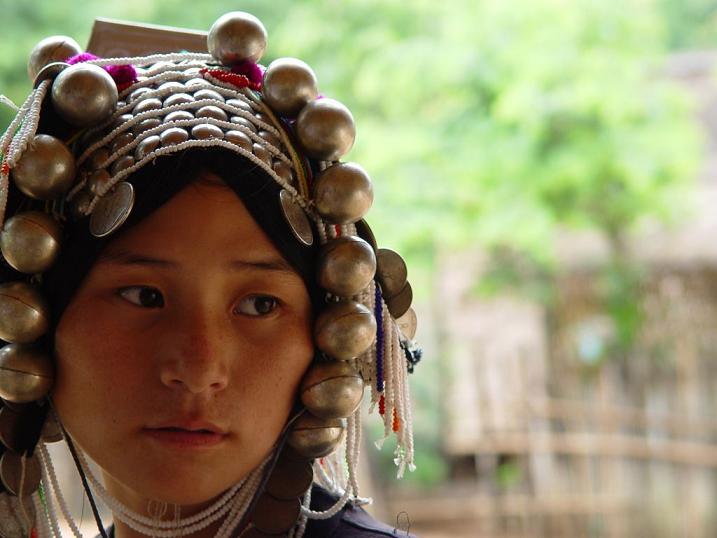 We are a local Thai NGO (non-profit-making and non-governmental organization) that supports the improvement of the life of the hill tribe people which live in northern Thailand in the province Chiang Rai in the "MaeYao"district and we attempt to protect their culture and their traditions.
The hill tribe people are poor, and they have a lot of problems such as child and adult prostitution, drug abuse, invasions of the culture and the tradition, depopulation of the villages, and educational shortages at the schools in Thailand.
We believe that the villages can solve these various problems by being supported to unite and to cooperate with each other.
The project aims at creating a peaceful society in which both, people living in the mountain district and people living in the low lands live and learn together mutually regardless of their religion or their race.
This BLOG gives information and an introduction to the
Hilltribe Children Fund project.
We in Japan believe that receiving education is a natural right for everyone. We say studying is a "child's work". Education is vital to prepare the children for their future careers and their future lives.
Why is the right to receive education such an important thing?
Is its meaning considered enough?
*********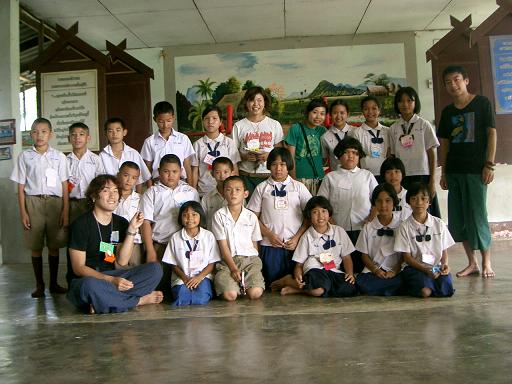 This picture shows volunteers and the students of Tun Luan elementary school which is supported by the Mirror Foundation.
The children often ask themselves what the meaning of going to school frequently actually is.
The answer is that at school children develop social and communicating skills as well as intellect.
Their confidence and the self-reliance to themselves are supported in the environment of a school which is a safe place that cherishes people gently.
And a "school" is a place which raises the understanding of the importance of languages and their ability of summarizing ideas and expressing them.
Whatever people think about schools one aspect is definite, education is received and knowledge is passed on to our future generations.
Knowledge and experience are closely connected at school.
This makes it possible for children to apply the learned skills to their villages, homes, communities and lives later on.
Therefore education becomes a support and necessity for our life.
It can be said that education is the key out of poverty.
Many of the parents of children living in the hill tribe villages in the Mae Yao area are day laborers or have passed away due to disease or drug addiction. So a lot of children grow up with a single parent only.
The children living in such situations are poor.
And if these children graduate from junior high school which is compulsory education in Thailand and/or wishes further entrance into higher education, there is no money which pays for the transportation expenses for going to school, or uniforms, textbooks and dormitory costs, etc.
Therefore, even if they want entrance into higher education desperately and their results are excellent, they have to give up entrance into higher education due to a lack of money and time because in order to support their families many children must go to work.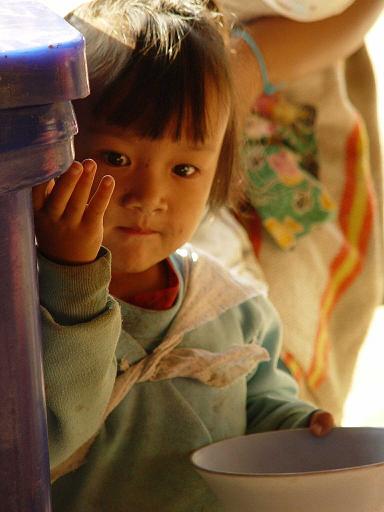 Many children who are not able to receive sufficient education are engaged in low wage work which does not require school education but as a result they do not earn much or even enough.
They work in gas stations, as dishwashers in restaurants, as waiters/waitresses in karaoke lounges, as flower sellers and they beg because often begging brings them more money than proper jobs. Or people send them out begging because they are kids and they look cute but they do not actually receive the money they beg for, only a very small part. Also these children are often involved in the sex industry selling themselves.
Although the Thai government offers funds for local schools, these systems are not enough.
The government offers lodgings for children who travel to school from distant places, it gives money with which to buy textbooks, uniforms, etc. but this is not enough and the situation is still difficult because it is very hard to spread the available money evenly amongst the children.
In order to solve childrens' problems, financial support is offered by the Mirror Foundation.
Scholarships are given to children and young people.
Those who were able to get the scholarship in 2005 at the time when the scholarship project started, received a scholarship which carries on until secondary education such as vocational schools.
So far 14 people have graduated from the scholarship program and 84 people have got the scholarship for every term of a whole year.
Out of belief of the Mirror Foundation it is more beneficial for children to grow up in their families and communities while being at school rather than living in dormitories away from home because then everyone can benefit from the education. So the foundation encourages children living at home while they are being educated.
*****
The children and young people receiving the scholarships will go on summer vacation at the Mirror Foundation every year because it is necessary for them to be trained for one month.
This training helps them to be independent in the future and to be able to deal with their environment.
The main purpose of the Children Scholarship Fund is for the children to receive education through training. The summer vacation training is very useful for the children since it reduces problems and helps their communities when they go home. This success gives the children and young people a motivation to study and to go to school.
The program is excellent for people who obtained the scholarship but many homes are still poor, and now there are a lot of children who strongly wish for the scholarships to be able to go to school.
However, the Fund has the problem that the necessary contributions do not keep up with the costs and more donations would be needed to help more people.
At the moment it is not possible to award a scholarship to these people.
Please help the Mirror Foundation to collect funds for the Scholarship Fund to support hill tribe children and teenagers.
With your support it would be possible to lead them into a better future so that their children can have a better future as well.
Isn't helping children to fulfill their dreams what makes us happy and what we should do in our lives?