These days scholarship students have a meeting during their holidays.
In fact, on 5th September there was an exchange party between students and an
organization which supports scholarship students from Singapore.
The students had a meeting to think about the program for the party.
14 Students gathered at this meeting.
The number is only half of the whole nubmer of dtudents
because, they live in different places. Some were from far away villages.
Some were from school residences near school.
There were some prerequisites for this program
・To wear each traditional clothes.
・To include a dance or sing a song
・To participate in the program, and cooperate with all students.
They discusses the program for two hours on the day,
and they began to make something with tools.
Please look forward to the party!!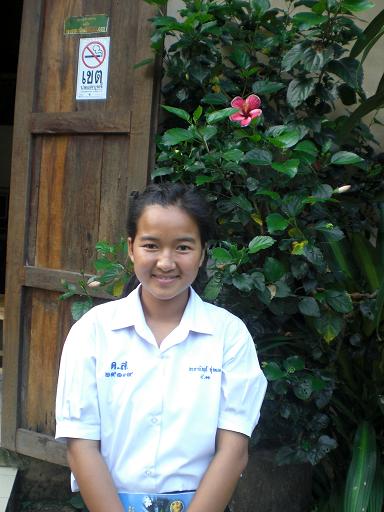 Her name is Aoy. She is 16 years old and from Sanjarung village(Aka tribe)
She is a first year student at Dumrong high school in Chieng Rai.
She leaves home at 6 a.m to go toschool on the bus, and goes home at 5 p.m.
This is a typical day for her.
Dumrong high school has a special activity on Thursday.
Activity are rich in variety. (For example, Thai dance, sports...)
Students can choose one of them that they are interested in,
and decide how to carry out the activity.
Although she can not take Japanese or English lessons for school activity,
She can take them on the weekend as a special study program.
After she gose home she always helps with the housework.
There are 4 people in her family, her mother, her younger brother and younger sister.
Because her mother leaves the house in search of temporary work,
Aoy takes care of thier home herself.
She also tries to be a good leader among students who have received scholarships.
Every day she is busy helping with housework and her studies however, it seems that she is satisfied with her busy life.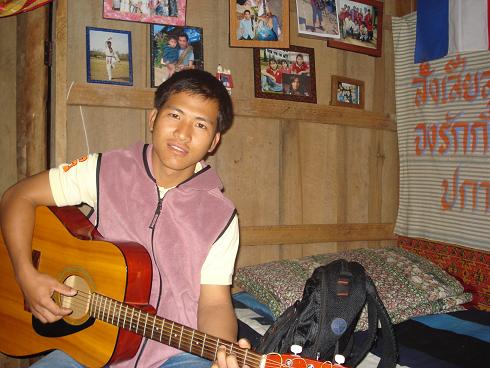 Manop Mayer is 23 years old and lives in Apha Village
(an Akha hilltribe in the Chiang Rai Province of Thailand).
Manop is in his second year of school at Chiang Rai Rajaphat University, where he is studying community development.
Before going to university Manop attended vocational school where he studied mechanical engineering.
It is then that he decided he wanted to continue with his education and go to university. Thanks to the generous support from fundraisers in Japan, Manop can now pursue his dream of attaining a higher education.
*****************************************
(The following is an interview with Manop)
◆In what subject are you most interested in you studies?
Community development.
◆Are you currently involved in any special activities as a second year university student?
I help draw up social science curriculums for first grade classes, as well as gather first grade students in groups for reading time.
This program is a great experience for me. It helps me learn how to bring up and educate the younger generations in our society.
◆What do you do when you come to visit The Mirror Foundation every week?
I often use this time to visit Akha and Lahu villages and collect data. Once collected, I summarize and organize the data into documents.
I also accompany The Mirror Foundation's volunteers when they go to teach and I help them by translating from Thai or Akha to English.
◆Does helping with The Mirror Foundation's jobs have an affect on you?
Yes, of course.
Whenever I visit the villages I learn about the various problems they face and am challenged by helping to solve these problems.
◆Although there you have two more years of university to go, what kind of future do you visualize for yourself?
I would like to gather the members of younger generations in the villages and carry out activities for community development.
The hilltribe people face many problems that have yet to be eliminated. One such issue is that concerning human trafficking. As of now, we campaign and perform at many villages with the intention of guiding the hilltribe people to think about the problems they face and how to try and solve them. It is my goal to motivate each person to think about their own future and how make the best of it.
*******************
Manop is an outstanding asset to The Mirror Foundation. He is a Scholarship Student leader and serves as a great example of the Mirror Foundation's Scholarship Program.
I would like to talk about Fon, a girl from Tung Luang elementary school which is near Mirror Foundation.
Fon is a girl in sixth grade in Tung Luang elementary school.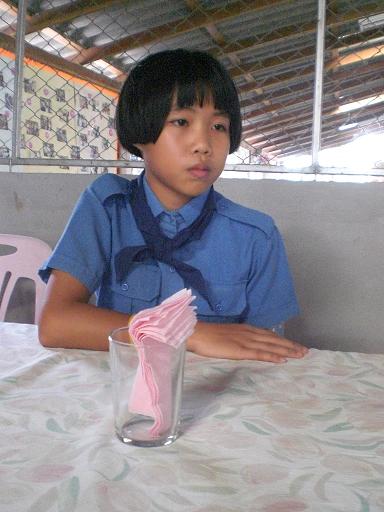 The teacher of Tung Luang school requested aid from the Hilltribe children fund project regarding one of her students which was Fon.
That was about Fon.
That's why we instantly went to the school and talked to them.
Due to HIV, Fon's parents passed away, when she was in first grade at Tung Luang school.
Now, she only has her grandmother left and lives with her.
The teacher said that her results are excellent and if she carries on like this, she can enter a special school which has dormitories.
Besides that the school supports all the students with expenses for school life like stationary.
However, should she go to special school she would have to leave her grandma behind.
Her grandma grows vegetables and sells them to earn money and bring up Fon.
Fon couldn't accept leaving her grandma behind which is why she would like to go to school in the mae Yao area.
*MaeYao lies near the area where Fon lives.
Of course, the school teacher also approved of this idea.
But Fon has to pay for transportation expenses for going to school, tuition fees, uniform costs, textbook costs, etc.
Economically she is living a painful life, however her results are excellent.
Can this problem not somehoe be solved?
That's why they contacted the "Hilltribe children fund project."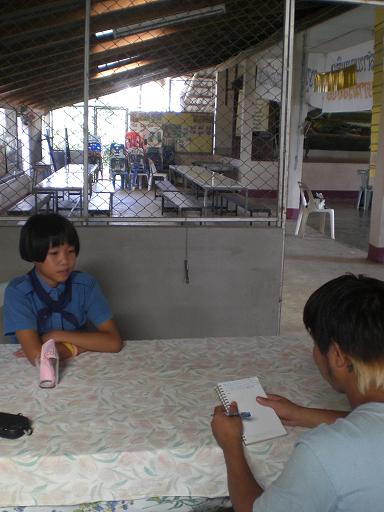 The Mirror Foundation is helping the "Hilltribe children fund project".
Although Fon is not Hilltribe, our project helps all the children who live in the Chiang Rai prefectural MaeYao area.
So when they contacted us we started thinking whether we could do something for Fon.
Below I would like to present an interview with one of the children who are receiving the scholarship supported by the Mirror Foundation.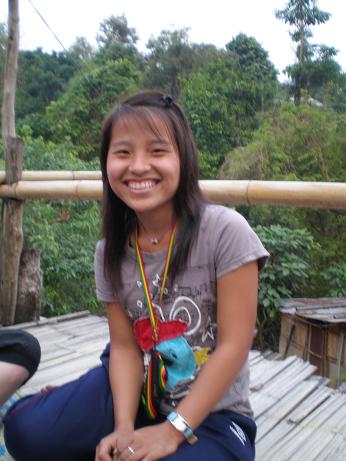 Passong, 19years old, attends the second grade of high school.
Yahu is a village on the top of the mountain 1 hour and a half away from the Mirror Foundation by car.
Passong lives with her father-in-law and her mother now.
Usually, she lives in the house of her elder sister at Namlat village near the school she attends, and goes to school from there.
Her results are very good and stable.
(Following The contents of an interview to her)
1. Is School Pleasant?
It is pleasant. I like using the Internet.
2. Hobby?
Listen to Thai music
.
3. What do you do after School finishes weekdays?
I look after my elder sister's child.
4. How do you spend your holiday?
I made dresses and accessories
5. Do you help your family?
I help cooking or cleaning.
6. What would you like to do after graduation from high School?
I would like to study accountancy at the university of Bangkok.
7. What would you like to become in the future?
I would like to become an accountant.
8. Would you like to come back to your village in the future?
I would like to come back to my village to buy a house for my father and mother.
***********
Now, I will present you another interwiew this time with Passong's mother.
Mrs. Nasoo (mother of Passong)
1. Are You Lonely?
I am lonely and sad.
2. How many times can you meet your daughter?
I can meet her once in a week. I go to meet her on Sunday morning to cook and come back in the evening.
3. What do you think of her going to school?
I think it is good for her to go to school.
4. Although Passong has said that she wants to go to university, what do you think?
Although I would like to send her to a university, since there is no money, she cannot go. But if we could organise a scholarship she could go to university. Since there is only farmhouse work at our home I have to do this exhausting work. This heavy work is harmful for a woman's body and does not bring enough money to send Passong to university.

5. How do you make your family's living?
I sell vegetables, rice and dresses (bags, accessories).
* When Passong's village accepts the homestays,in many cases tourists purchase tribal accessories etc. from each home.
Narsie, 18 years old, attends the first grade of college.
Narsie is also one of the students who have a scholarship from the Mirror Fondation.
She goes to college in Chiang Rai.
Because the Yahu village is on the top of a mountain very distant from Chiang Rai,
she lives in the dormitory of the school and goes to school from there.
As well as Passong, we interviewed Narsie in the same way.
1. What is your favourite class?
Accounting.
2. Hobby?
Reading books.
3. What do you do after school finishes weekdays?
I have to participate in many activities performed in a dormitory.
4. How do you spend your holiday?
I make bags and accessories .
5. Do you help with household tasks?
If a visitor comes to my house, I help welcoming the guest.
* Since her village accepted travellers for homestays, there are many opportunities to host guests ana sell handicraft.
6. What would you like to do after graduation from college?
I would like to go to university in Chiang Mai.
7. What would you like to become in the future?
I would like to become an accountant.
8. What do you think about the scholarship?
I am very glad I received it.
9. What do your parents think of you going to school?
I think they are glad that I study.
10. What do the people of your village think about you going to school?
Now, there are only three people who have not gone to high school, so I think going to school is a good role model.
So I think it becomes a good role model.
11. What kind of work are your parents doing?
My family are farmers and they grow many things like rice, corns, bananas.
**************************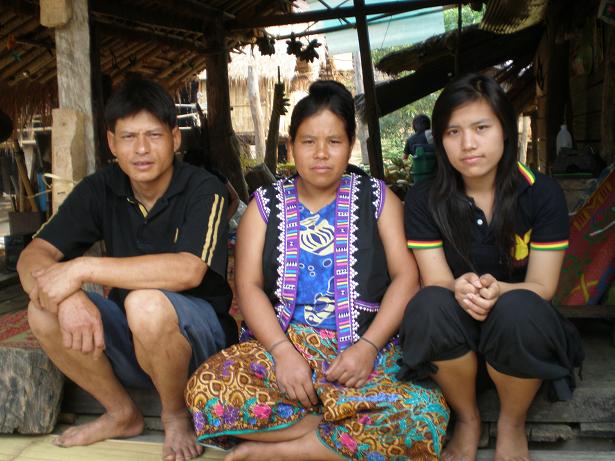 And this is an interview with Narsie's mother.
1. What do you think about your daughter going to school?
I think it is good to study and studying is good for having a good job in the future.
And I'm sure that Narsie will be of some help to our family, too.
2. Although Narsie already said that she wants to go to university, what do you think?
If she wannts to go to a university we will support her, also with money.
3. Are you lonely when your daughter does not stay at the village?
I am lonely and sad.
4.How many times do you meet Narsie in one year?
Only during the summer vacation.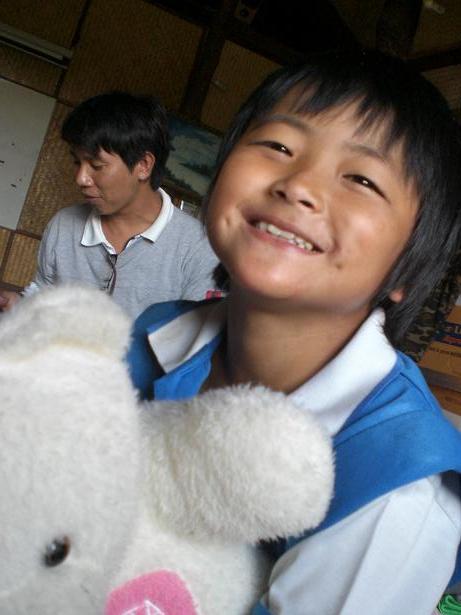 Ami is a girl who lives in an Apa village (Akha hilltribe).
When she was young, she had very high fever which damaged her body.
Now, she is 8 years old but she cannot use her hands and feet very well .
Due to that the Thai government of supports special nursing institutions located in Chiang Mai which she attends regularly.
The Mirror Foundation is also supporting her by bringing her to and picking her up from school when she has long vacations.
When you meet Ami she is always very happy and cheerful despite her problems but one can imagine her being sad and lonely on the inside sometimes because she cannot have a normal life. However she seems like she has a very strong character and will to cope with the disease.
Although she cannot use her hands and feet very well, she loves studying a lot.
We think that her memory is also much better than ours because already after hearing a new name once she remembers it for the next time you see here and she is a clever girl over all.
However, due to her problems she has to attend elementary school for many hours over a period of time of four years rather unlike ordinary children who finish a lot earlier. We would really like to observe and support her from now on to see how she copes with her everyday life.
Upon request by the Mirror Foundation, I am looking for people who can continuously support Ami.
If you are looking for more detailed information please contact me using the following email address.
mirrorfoundation@hotmail.co.jp