I will introduce a new topic.
Our project," Hilltribe Children Fund Project" have been working for a children.
But if urgent will be happend, we will support it not only for a children but for an adult or a family unit.
***********************
Now, today I will talk of a Akha hilltribe family.
Their village is close to the elephant's village Rouemmit village.
Mr. Chegong's family lives in the village which is Fuesangong village of Akha hilltribe.
Father (Mr. Ache) is 48 years old. The symptoms of HIV (AIDS) are shown,already.
Before symptoms develop,he worked on the daily-hire construction at ChiangRai town.
For Mr.Ache,it is defficult to walk with no cane because of aggravation of HIV's the early stages. It was becoming seven months ago.
All the day,he almost bedridden state with fever and giddiness.
Since he stopped working, his wife (Mrs. Miebar)have to support the family's life.
His wife is doing work of tea picking in the nearby plantation.
However, Miebar's income is 130 bahts per day, with all her strength.
After deduct the children's expense of bringing up a child, daily foods cost, and also transportation expenses (gasoline cost for going to Miebar's working place and send Mr. Ache to the hospital) , it will not remain at hand nearly.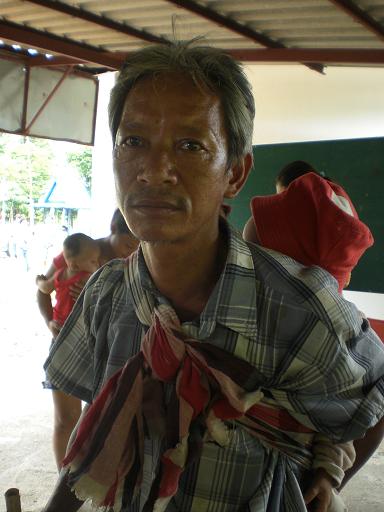 Mr.Chegong has three children.
They are a 12 year-old girl, a 10-year-old boy, and the boy that just became 1 years old.
Although two older brother and sister go to the elementary school, they are in the situation which daily lunch cost, uniform cost, textbook cost, etc. cannot pay all.
Furthermore, Mr.Ache have to take care of the youngest child instead of his wife.
However, father is the sick body.
It is very serious for his own body not to move well.
His village,Fuesangong,there is no child care center.Because the village is too small.
Although this child's milk cost must also have to manage.
They are terribly perplexed by their problem.
But now, by the staff of the mirror foundation,they obtained to solve this problem.
That's why we decided to support Mr.Ache's family for transportation expenses for going to hospital regularly, a child's milk or money which purchases milk and expense for two older children's school.
We are receiving emergency assistance money for this family.
******************************
Inquiry about support ,please contact here.
mirrorfoundation@hotmail.co.jp