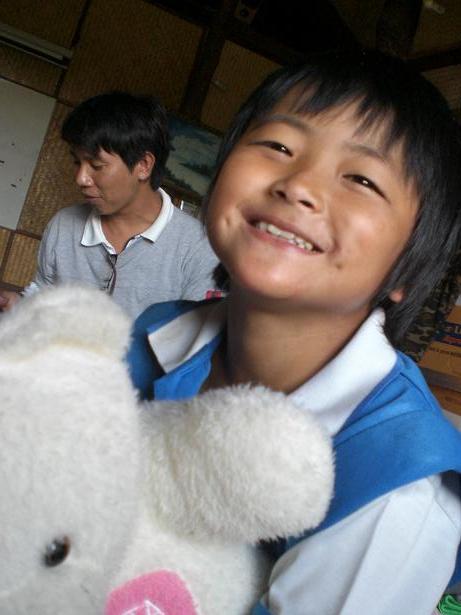 Ami is a girl who lives in an Apa village (Akha hilltribe).
When she was young, she had very high fever which damaged her body.
Now, she is 8 years old but she cannot use her hands and feet very well .
Due to that the Thai government of supports special nursing institutions located in Chiang Mai which she attends regularly.
The Mirror Foundation is also supporting her by bringing her to and picking her up from school when she has long vacations.
When you meet Ami she is always very happy and cheerful despite her problems but one can imagine her being sad and lonely on the inside sometimes because she cannot have a normal life. However she seems like she has a very strong character and will to cope with the disease.
Although she cannot use her hands and feet very well, she loves studying a lot.
We think that her memory is also much better than ours because already after hearing a new name once she remembers it for the next time you see here and she is a clever girl over all.
However, due to her problems she has to attend elementary school for many hours over a period of time of four years rather unlike ordinary children who finish a lot earlier. We would really like to observe and support her from now on to see how she copes with her everyday life.
Upon request by the Mirror Foundation, I am looking for people who can continuously support Ami.
If you are looking for more detailed information please contact me using the following email address.
mirrorfoundation@hotmail.co.jp